Irrigation Repair
[siteorigin_widget class="SiteOrigin_Widget_Hero_Widget"][/siteorigin_widget]
Irrigation Repair Service | Elite Sprinkler Systems
Irrigation Repair Service 
Saving money is the goal that every income earner wants to achieve. You can start saving money by hiring our best technicians here at Elite Sprinkler Systems in Michigan. Our irrigation installation services help you practice cost-saving solutions while keeping your lawns in Michigan attractive. Even if you hired other companies for the installation or own an older irrigation system, our experts can easily figure out what is causing your water bills to increase and repair the components that are causing the increase. 
It can be hard to tell if the irrigation systems in your lawns in Michigan have leaks. Here are some things you need to keep an eye out for so you can contact the best irrigation system in Michigan. 
What You'll See On Your Lawn If There Are Leaks In Your Irrigation System
✓ Check if each of your valve boxes is wet. 
Our certified technicians will check for loose wiring, worn parts, or leaking out between fittings and do the necessary repairs or replace parts.
✓ Water pooling on the base of your sprinkler. Your previous installer might have used the wrong height for your sprinkler rise. If you've just bought a new home, the previous homeowner's irrigation system might have an old valve that is not closing properly. You can confirm this if other sprinklers placed on that same spot are leaking, as well. 
You should only hire the best irrigation services in Michigan, and that's us, Elite Sprinkler System. Our team knows exactly what part is best for your specific watering needs. They also repair old irrigation systems and bring their original quality back. Are you tired of your old sprinkler system? Elite Sprinkler Systems in Michigan will provide you with the latest upgrade in irrigation products.
✓ The spray head is misaligned. You'll step on driveways and sidewalks that are wet. This happens when your previous irrigation company used the wrong nozzle for your sprinkler head. 
Our experts in Michigan will fix the mistakes of your previous installer and repair and replace the spray head for you to go back to saving your money.
✓ Water shoots between sprinkler heads. This might be caused by a broken pipe that bursts open the soil above it.
Elite Sprinkler Systems in Michigan will send our certified technicians to find a cost-efficient, less messy solution to repair broken pipes underground. 
✓ Check Your Controller. Your previous installer might not have thoroughly explained how to set your watering schedules with your controller. Maybe other companies never told you how much water and money you're wasting by using that "set it and forget it" approach. Perhaps they never told you that you should be pressing buttons on your controller when the climate changes in your area. 
Our team will never leave you with your new irrigation system without explaining to you step by step how to work out the buttons on your controller and tell you the times of the year to set the watering schedules. Suppose your controller works fine, and you still experience a water bill increase. In that case, it's time to contact Elite Sprinkler System in Michigan to find out which specific part is causing the unnecessary costs.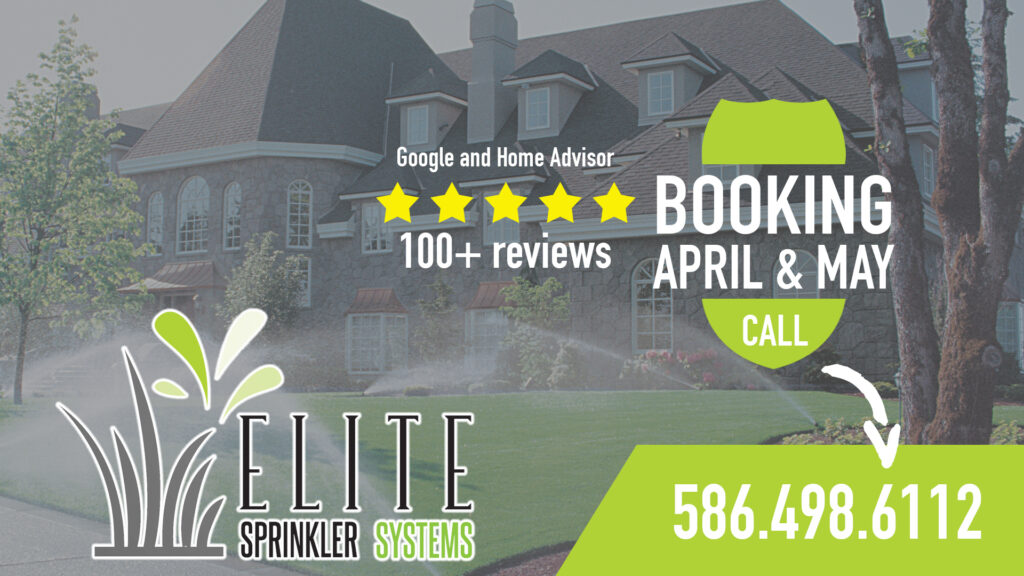 We Repair Every Irrigation Issue In Your Lawn Faster, And In The Most Reliable Way
Elite Sprinkler Systems offers irrigation repair services in Michigan that will not take too much of anybody's time. We'll work around your schedule, and we will do it fast and with no mess.
Contact us right now and get back to saving money now!
[siteorigin_widget class="WP_Widget_Media_Image"][/siteorigin_widget]
[siteorigin_widget class="WP_Widget_Media_Image"][/siteorigin_widget]
Michigan's #1 Lawn Sprinkler System Company
HOURS
M – F 9:00 AM – 5:00 PM
All services are by appointment
Copy Right 2020. Elite Sprinkler Systems.