Sprinkler Winterization
[siteorigin_widget class="SiteOrigin_Widget_Hero_Widget"][/siteorigin_widget]
Sprinkler Winterization in Michigan | Elite Sprinkler Systems
Sprinkler Winterization Services in Michigan That Prevents Costs
Let The Pros Handle Sprinkler Winterization
Nobody wants to spend money on repairing issues that could have been prevented. You don't want to spend hundreds to thousands of dollars on fixing damages that would not happen if you called in the experts to your home.
Sprinkler Winterization is important in stopping you from getting a huge bill for repairs when the temperatures start to drop. After all, you are already dealing with your huge bills for your heating costs during the cold weather.
Elite Sprinkler Systems in Michigan will help you avoid unnecessary costs with the help of our trained experts armed with the right and quality tools and equipment.
What Our Certified Technicians Will Do To Prevent Unnecessary Costs
✓ Turn off the water source of your irrigation system installed in your home or office in Michigan.
✓ Flush out every drop of water from your irrigation system using the right air compressor.
✓ Turn off your irrigation system's controller.
✓ Check if there are any existing damages on your current sprinkler system that you have on your property in Michigan.
✓ Hand out to you an estimate for the repairs of the damages, if any.
✓ Make sure they have answered all your questions about Sprinkler Winterization and damage repairs.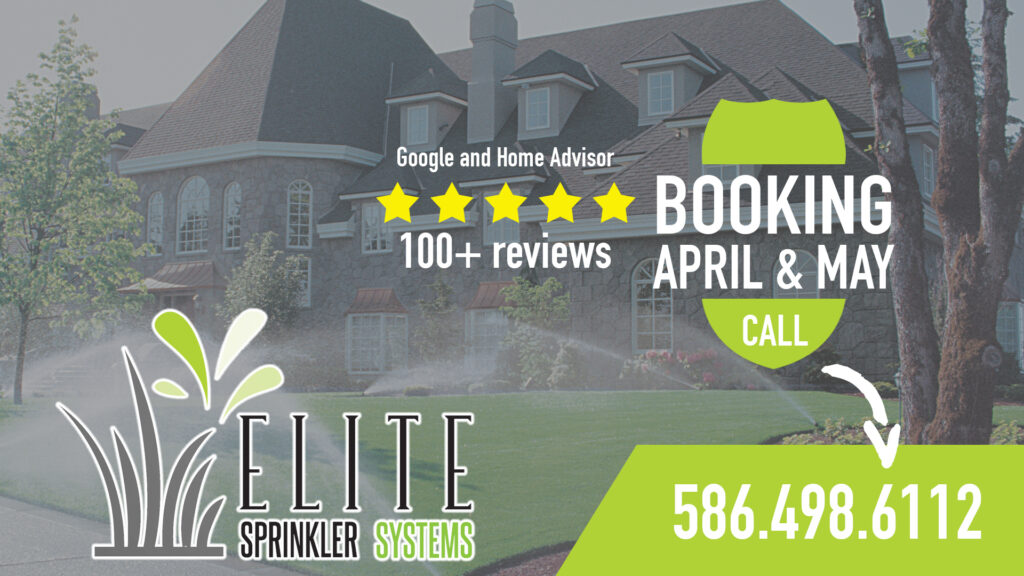 Why Sprinkler Winterization Should Not Be a Do-It-Yourself Job
Everyone has the right to do what they need in order to save more money and their time. We understand how important it is for homeowners and business owners to save money for their loved ones and to expand their businesses. The question is: is it worth the time and money? The answer is no, and here's why:
✓ The fee of renting an air compressor could be more than the fees of hiring the pros in irrigation service.
✓ You're not even sure if the compressor you've rented out is the right one for the job. Does the air compressor that you have rented out have the right output to blow the water completely out of all pipes, valves, sprinkler heads, and other components in your irrigation system that have water in them?
✓ You can search for a tutorial video on the internet for two hours for a job that would only require 15 minutes to do. A service job that has a fee that is lower than the fee of renting out the right air compressor.
✓ You can accidentally blow out your pipes which is a nightmare to fix on your own. Also, depending on the extent of the damage, you might end up spending thousands of dollars on repairs that could have been prevented.
Elite Sprinkler Systems offer the most reliable Sprinkler Winterization in Michigan. Don't wait for snow to fall before contacting our experts to provide you with a service that is important in preventing costs.
Our Sprinkler Winterization services in Michigan are only handled by trained experts who are knowledgeable in every aspect of the job. They are pros who know why each irrigation component is functioning that way, and they can tell which irrigation component will be causing you a lot of trouble.
If you are a business owner or a homeowner in the great state of Michigan, contact us to know how our irrigation services can help you. We can help you add beauty to your homes and offices that will make you stand out in the neighborhood. We can provide you with everything that we promised without you emptying your pockets.
Explore our website to know more about our installation services, repair, and spring start-up services that most residents in Michigan approved.
[siteorigin_widget class="WP_Widget_Media_Image"][/siteorigin_widget]
[siteorigin_widget class="WP_Widget_Media_Image"][/siteorigin_widget]
Michigan's #1 Lawn Sprinkler System Company
HOURS
M – F 9:00 AM – 5:00 PM
All services are by appointment
Copy Right 2020. Elite Sprinkler Systems.